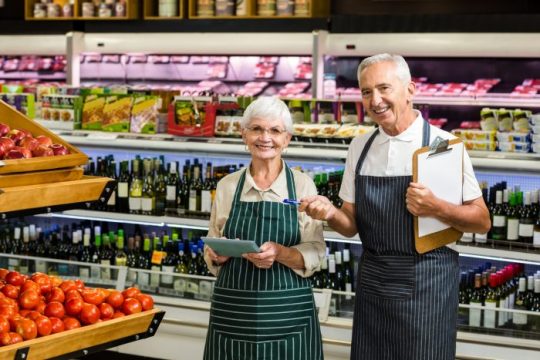 By: Fiona Fowler, Guest Contributor
Retirement, for many, means spending time with the grandchildren or pursuing those hobbies and interests that a career never gave time for.

However, for a growing number of Americans, reaching retirement does not mean stopping work. 20% of Americans over the age of 65 were working or looking for work last year, twice the figure from 1985. There are patterns within those numbers though, with 53% of those over 65 and working have college degrees and the average income prior to retirement was $78,000. It seems working past the age of 65 has become easier for the healthier, better educated and higher earning, perhaps the demographic that does not need to work in old age.

In the United States alone, 2.7 million grandparents are responsible for raising their grandchildren. We have already explored how important a grandparent can be in our article The Important Role of Grandparenting, but for many seniors, the role is closer to surrogate parent. That may necessitate a part-time job, to support the family you have already raised once.

There are plenty of jobs for seniors who want to work again, college education or not. The modern world facilitates flexible working, working from home and freelancing that does not discriminate by age or education, but merely by ability. We start our round-up of five jobs for seniors who want to work again with a role that can be done by anyone, anywhere.

Ghostwriter

The internet has created a whole new industry that will continue to grow exponentially year on year – ghostwriting. A ghostwriter can be someone who writes a book or for a magazine on behalf of someone else, but also someone who writes articles on the internet, much like this one, from the comfort of their own home. In the ZenBusiness guide to becoming a ghostwriter, they suggest that you can work from anywhere in the world. That can often be at your own pace, doing as much or as little as you like to fit in with other commitments. All you need is desire, basic grammar skills and a little patience to learn the ropes.

Consultant

This is a career you might want to explore if you were one of those successful college-educated, career-driven people prior to retirement. A lifetime experience in a chosen field is a valuable asset and it could be utilized by a company or organization going forward. You could turn your knowledge, expertise and previous contacts into a thriving part-time endeavor for your previous employer, or maybe even a former bitter competitor.

Pet Sitter

This is a job open to anyone and everyone, all you need is a love of pets. You can offer your services as a pet sitter, staying in people's home whilst they work or are away, looking after their pets. You may run a small business from home, offering a place for pets to stay, or even branch out to dog walking, which keeps you active and brings in some much-needed revenue. The pet-sitting industry is worth close to $400 million in the United States and is growing every year.

Tutor / Teaching Assistant

If you were in the education field prior to retiring, you might like to keep your skills sharp by offering private tutoring outside of schools. There is a big market for extra tutoring hours, and Work Chron claims a private tutor can earn up to $46,000 per year if they work full time. In picking your hours and your clients, that earning potential is reduced, but the role would offer flexibility and some degree of financial comfort.

Customer Service Representative

There is an abundance of customer service posts available, many of which allow you to work from home. Often, they are either telephone-based, or using chat software. This would suit any senior whatever education they had received, as many simply require a basic grasp of technology, good levels of customer service and the ability to listen, empathize and solve problems.
Article specially written for amacfoundation.org by Fiona Fowler
Notice: The links provided above connect readers to the full content of the posted articles. The URLs (internet addresses) for these links are valid on the posted date; socialsecurityreport.org cannot guarantee the duration of the links' validity. Also, the opinions expressed in these postings are the viewpoints of the original source and are not explicitly endorsed by the AMAC Foundation, Inc.