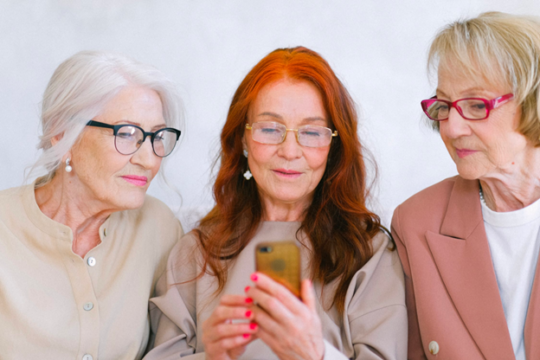 Editor note: The following article has been provided to AMAC Foundation and our readers by Donna Erickson. Donna Erickson is a retired public educator. She created Fit Memory with a few friends as a way to promote wellness among senior citizens with the hopes it will help inspire others to make the most of their golden years.
Whether you're a recent entrepreneur, a nonprofit pioneer, or a dedicated volunteer, networking is an important part of your career path. You need to get to know people who will help you achieve your goals and provide you with professional advice. According to statistics, people over the age of 55 comprise 50.9% of small business owners. Despite this dominance, seniors may be intimidated by the prospect of reaching out to others in their field. These 5 essential tips for networking seniors will help gain the confidence necessary to network effortlessly, connect with people, and build valuable professional relationships.
1. Identify the Goal of Networking
If you wish to network successfully, you must first identify what the goal of your efforts is. For a first-time entrepreneur, this might be seeking advice from a more experienced mentor. Seniors certainly don't lack experience, though, so you should consider what you will gain — and give — in a networking interaction. If you're simply looking for camaraderie from your colleagues, that's okay — when you're honest about your networking goals, you're far more likely to achieve them.
2. Connect With Colleagues Online
Networking is important because it allows you to learn from others and foster a community of like-minded go-getters. Unsurprisingly, some of the best resources for doing this are found online. You can look for online networking sites and create a profile to start interacting with other people in your local commerce community. You should upload a detailed description of your work and volunteer experience as well as a flattering professional portrait.
3. Attend Events for Networking
Some sources say that seniors still are not up to speed with the demands of the digital world. If you aren't web-savvy, though, don't worry — there are plenty of offline opportunities for networking, too. Look for networking events that will allow you to meet others, engage with people one-on-one, and join discussion groups. Events like these are often tailored to specific industries or areas.
4. Work to Maintain Relationships
If you've set up an online profile or attended an in-person networking event, you've likely collected at least a few business cards and had a couple of conversations with colleagues. Good job — you've planted the seeds of networking! In order to actually build your network, though, you need to follow through and continue investing in these relationships. Follow up with people, let them know that you enjoyed meeting them, and let them know that you're open to continuing a discussion.
5. Hone Your Business Savvy
One of the most important elements of networking is honing your business savvy and adhering to important business must-dos. When you are starting a nonprofit or a business, for example, you can start an S-corp to take advantage of pass-through taxes and minimized self-employment taxes. Similarly, when you invest in your company's culture, you'll see employees and profits flourish. When you have a sharp business acumen, your networking partners will notice.
And if you decide it's time for a career change, take advantage of time savings by using a resume builder. This has the added benefit of using time-tested templates to highlight your skills and give you an advantage over the competition. And best of all, it's free!
Network With Confidence at Any Age
No matter how old you are, you can make networking look like a breeze by following these steps. When you approach people with genuine intent and a listening ear, they'll be eager to connect with you and learn more about your endeavors.
AMAC Foundation is devoted to supporting and educating America's seniors. Call 888-750-2622 or email [email protected]
*Image provided by author, via Pexels