Foundation's Editorial Calendar Continuing to Grow
If you happen to be a regular visitor to our primary website, AmacFoundation.org, you've likely seen our weekly blog posts covering topics important to the Senior population. In fact, for the past year or two, we've regularly published a new in-dept article every Monday at 9:00 am, and this year the pace has accelerated such that we're posting more than that. In fact, through the first four months of this year, we've issued 26 separate articles - many of them "guest" posts from individuals and journalists who have noticed the growing reach of our site and the value it provides.

This pace is faster than our 2021 schedule, where we hit the air waves with an average of six new posts each month. We used these posts last year to convey critical ideas to our constituency on subjects of substantial importance to Seniors, and one of these focuses on a topic we continue to visit frequently - Elder Fraud. Since January of 2021, for example, we've posted over 20 compilations of thoughts and ideas for our readers to protect themselves from the ubiquitous threats from scammers and fraudsters.

As an aside, it's interesting to note that our website content caught the attention of Congressman Bryan Steil (WI-01), prompting his office to request copies of two Elder Fraud-related articles, along with a supply of Foundation brochures, for use at an April 21 event. The material was delivered to Rep. Stiel's office during the first week of April.

The series also frequently covers topics like Senior Health, Senior Support, and Veterans Support, along with a smattering of news about what's happening here at the Foundation and sometimes just a general interest item or two. So, if you haven't already, we invite you to check out this page of our website...you can find it at AmacFoundation.org/News & Info. Remember that the page is keyword searchable, in case you're looking into a specific topic. Here's how they'll appear when you check it out: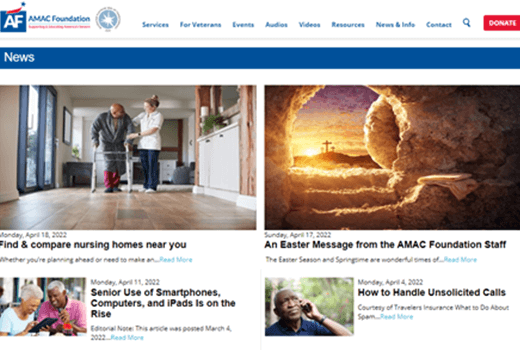 "Success is not the key to happiness. Happiness is the key to success. If you love what you are doing, you will be successful."
-Albert Schweitzer -
Foundation Again Earns Platinum Status on Guidestar!
The AMAC Foundation has achieved the Platinum Seal of Transparency Rating on Candid GuideStar, the world's largest source of information on non-profit organizations. This rating puts the Foundation in the top 0.1% of charities nationally in terms of transparency in 2022.

The Platinum Seal of Transparency indicates that the Foundation shares clear and important information with the public about its goals, strategies, capabilities, and achievements, and presents progress indicators that highlight the difference the Foundation makes in the world.

Potential donors can find in-depth financial information about our organization as they consider a gift that supports our mission: supporting and educating America's Seniors and, more specifically, helping Seniors navigating the complexities of Social Security and Medicare.




Spreading the Word About Social Security.
As part of the AMAC Foundation's continuing mission to enhance the public's understanding of our country's Social Security program and its impact on Seniors, Executive Director Gerry Hafer travelled to Spring Hill, Florida on April 6 to address the Spring Hill Republican Club at their monthly Wellington at Seven Hills meeting. Gerry's remarks focused primarily on Social Security's solvency problem, and was structured as a three-part presentation focused on:

What's the problem?
How did the problem develop?
What can be done about it?

The session was attended by roughly 60 members, all of whom expressed appreciation for the information. The April 6 event was also a "meet the candidates" forum, with Florida District 12 congressional candidates Gus Bilirakis and Jack Martin represented, giving the issue even greater exposure. We view the solvency of Social Security to be a major concern due to its potential for impact on the Senior population, and would be pleased to discuss the issue further with anyone interested in gaining an understanding. Just call the Foundation office and we'll be happy to chat!




If you no longer wish to receive this type of email, you can [UNSUBSCRIBE_LINK] .

[COMPANY_FULL_ADDRESS]