Our Continued Focus on Elder Fraud
As we mentioned in last months newsletter, our Foundation has joined forces with AMAC, Inc., AMAC Action, and Travelers Insurance in promoting awareness of the Elder Fraud problem and the various frauds and scams repeatedly targeting our senior population. With this partnership, our editorial calendar for 2021 now contains more than a dozen specific post on the subject of fraud, with a particular emphasis on nefarious attacks on our seniors.

All of these focused reports can be found on our Foundation website's blog page ("News & Info"), with these specific articles appearing in the remaining weeks of 2021:
Common Financial Scams Against Seniors and What to Do If It Happens to You
Thoughts on Detecting a Hacker's Visit
How Can We Help the Elderly Avoid Being Scammed? An Interview with a Travelers Investigative Services Expert
5 Tips to Help Avoid Elder Financial Abuse
What Is Elder Financial Abuse and How Do You Help Prevent Scams?
These topics -- and there will likely be additional Elder Fraud-related articles in between these scheduled posts -- complement the broad range of topics we present in our weekly blogs. Check it out on the Foundation website!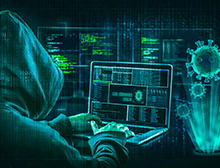 Upcoming Foundation Seminars
Check out our upcoming education educational offerings:
On Wednesday, October 27, we'll be presenting another edition of our highly-acclaimed "Veterans Benefits" seminar. In this session, we will partner with VITAS Healthcare's Veteran Liaison Benedetto Mongiove, who will present an informative seminar covering the myriad benefits available to the Veteran Community. His remarks will cover eligibility criteria; VA medical priority groups; disability compensation, pension, and survivor compensation; VA burial benefits; contacting VA medical facilities; and much more. Check out this notice on the Foundation website and to register, contact the Foundation office at 888-750-2622 or via email at

[email protected]

.
The 25th edition of our highly acclaimed "Sudden Death: Are You Prepared" notebook series program is scheduled to start Monday November 8, with the second and third parts following on November 15 and November 22. For this edition, we're returning to the Villages Public Library at Pinellas Plaza, 7375 Powell Road, Wildwood, FL 34785. This will be an afternoon session, with all three sessions to be held from 2:00 pm to 4:00 pm. The program's objective is to help ensure that survivors are prepared to deal with the aftermath of a loved one's death, guiding attendees through the creation of a "Survivor Notebook" to help survivors cope after the death of a spouse or key family member. Reservations are now open for this series, but are limited due to physical space limitations at the library. To register for the series, contact the Foundation office at 888-750-2622 or via email at

[email protected]

.
As always, we are constantly on the lookout for new topics for our seminar/webinar program, so if you have any ideas, please send to us at

[email protected]

!