April Seminars
Here's a recap of what's on the seminar schedule for the month of April:

Thursday, April 21 (10:00 am - Noon) - Sudden Death: Are You Prepared?

A 3-part series - April 21, April 28, and May 5 held at Villages Public Library at Pinellas Plaza, 7375 Powell Road, Wildwood, FL 34785. This seminar will guide you through the creation of your "Survivor Notebook," the repository that will help your loved ones cope after your passing. (Note - By the time this newsletter is published, this event will likely be fully subscribed. The July edition has scheduled for July 6, July 13, and July 20...click here for details.)

Wednesday, April 27, 2022 (10:00 am - 11:30 am) - Understanding Florida Homestead Law

Do you think that Florida Homestead law only pertains to your property taxes? Do you want to learn more about Florida Homestead beyond statutory provision? If so, then join Attorney Patrick Smith for his free seminar on estate planning and Florida Homestead law presented by AMAC Foundation. Attorney Patrick Smith will be presenting on the statutory and constitutional aspects of Florida homestead law. Attorney Smith will also be available to answer any and all questions that you may have regarding estate planning or Florida Homestead law. The seminar will be held at the Lady Lake Library, 225 W. Guava Street, Room 207, Lady Lake, FL 32159. We are planning to livestream and record this seminar, so it will be available for on-demand viewing afterward. There is no fee for this seminar, but we do request the courtesy of an advance registration...simply contact the Foundation office at 888-750-2622 or via email (

[email protected]

).

Check the AMAC Foundation website (www.AmacFoundation.org)for details, and contact the Foundation office at 888-750-2622 or via email at

[email protected]

to register for these programs, both of which are provided free of charge.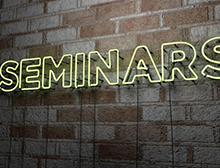 Foundation Makes Guest Appearance on AMAC Weekly News
AMAC Foundation was represented on the March 26 edition of the AMAC Weekly News, with Executive Director Gerry Hafer joining radio and cable television talk show host Ben Ferguson for a discussion on key events at the Foundation. Hafer discussed the continuing upward trajectory in activity on the Foundation's Social Security Advisory Service, noting that 2021 volume represented a more than 33% increase over 2020 and a more than 93% increase over 2019's level. He noted further that 2022 volume is continuing at record levels, well more than 600 per month.

Hafer also explained the newest feature of the Foundation's Social Security-related public outreach -- the Social Security Instant Academy program launched in mid-March. The new program, he reported, features brief -- less than two-minute -- audio recordings covering specific program aspects, such as "Do you know what your Full Retirement Age is?" The recordings are being posted on the Foundation's Facebook page and stored on the Foundation's website (Audios page) bi-weekly.

The discussion also included a review of work the Foundation is doing in the area of Veterans outreach, including progress on the "For Veterans" searchable data base of programs, services, and information important to Veterans and their families.