AMAC Foundation Agrees to Assist in Recruiting for Dementia Caregivers Study
The subject of dementia -- in all its forms -- is of considerable importance to our constituency. As evidenced by the events we've offered via our seminar series, we've taken steps to bring helpful content on this subject to the folks we interact with. For example, the multi-part series we provided earlier this year in partnership with the Alzheimer's Association, as well as our webinar sessions covering medical viewpoints on dementia and related issues.

In late October, the University of California San Diego's School of Medicine, Department of Psychiatry, asked us to assist in the search for participants in a study on the subject of caring for family members with Alzheimer's Disease, Parkinson's Disease, Lewy Body dementia, or any other type of dementia. In view of the constituency we serve, we are pleased to lend a hand to this important initiative, which takes the form of a study aiming to help address the stressors that come with being a caregiver. The study will work through internet-based caregiver programs designed to teach coping skills that may reduce caregiver stress or improve emotional well-being. In addition, the study provides access to web-programs for up to 15 months, monetary compensation for participation, 6 support calls, and feedback about participants' progress throughout the study.

If you have an interest in participating in this study, check out the article on our website's "News & Information" page posted November 20.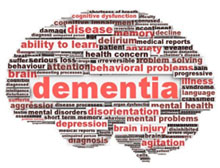 Sudden Death Series Continuing Its Popularity
The 26th edition of our highly acclaimed "Sudden Death: Are You Prepared" notebook series program, scheduled to start Monday November 8, is completely subscribed, so we've made arrangement for a session to begin Wednesday, January 12, 2022. The second and third segments will be held on successive Wednesdays, January 19 and January 26. All January sessions will take place at the Lady Lake Library, 225 West Guava Street, Lady Lake. Check the website listing for this program here...

For those readers unfamiliar with this program, its objective is to help ensure that survivors are prepared to deal with the aftermath of a loved one's death, guiding attendees through the creation of a "Survivor Notebook" to help survivors cope after the death of a spouse or key family member. Reservations for these sessions are limited due to physical space limitations and the need for intense interaction with presenters, and partial attendance at the three sessions is discouraged. To register for the January series, contact the Foundation office at 888-750-2622 or via email at

[email protected]

.

(Editorial Note: As always, we are constantly on the lookout for new topics for our seminar/webinar program, so if you have any ideas, please send to us at

[email protected]

!)