"Ask Rusty" is a layman's guide to the intricacies of Social Security
(Foundation Board Member and noted journalist John Grimaldi prepared the following press release to commemorate the official release of our most recent publication.)

WASHINGTON, DC, Oct 23 -- The AMAC Foundation has published "a comprehensive, easy-to-understand" layman's guide to help America's population of senior citizens understand the ins and outs of Social Security. The book is called "Ask Rusty: What's so hard about Social Security." Russell "Rusty" Gloor, whose weekly column on the topic is published by several hundred news outlets across the country, is the primary author.

Gloor is an accredited Social Security Advisor with a knack for explaining the complicated provisions of the Social Security Administration in a simple and easy to understand manner, according to Gerry Hafer, Executive Director of the AMAC Foundation, the nonprofit arm of the Association of Mature American Citizens. The foundation is focused on the needs of senior citizens. "The broad-based popularity of Rusty's column in which he answers questions about Social Security prompted us to encourage him to pen a comprehensive manual for those already receiving benefits and those who are nearing the age of enrollment." says Hafer.

The Foundation operates a call-in and email service that answers hundreds of questions monthly about Social Security issues from AMAC members and the public at large.

"Seniors are the fastest growing segment of the population and the complexity of the rules, and the resulting difficulty people have interpreting those rules relative to their individual situations, are what drive folks to contact us. Often, there are rules that countermand rules, qualifications that make some of the rules misleading. It's the reason we publish our Ask Rusty column each week and why we published this book," Gloor explains.

Gloor added that "the AMAC Foundation is committed to supporting America's seniors, and helping them navigate Social Security's myriad rules, and applying those rules to their personal circumstances, is a big part of what we do. We've helped thousands of seniors develop a better claiming strategy and made them aware of Social Security options they didn't even know they had, and that is especially gratifying to each of our Advisors. Sharing our collective knowledge in this book fits perfectly into The Foundation's overall mission."

To order a print copy of the book, send an email request to

[email protected]

. Price of the printed version is $19.95 (plus tax), with free shipping. An email request will result in a return invoice to the requestor, and the book will be shipped immediately upon receipt of payment.

An eBook copy of "What's So Hard About Social Security?" can be ordered on either Amazon or Apple eBooks for $9.95.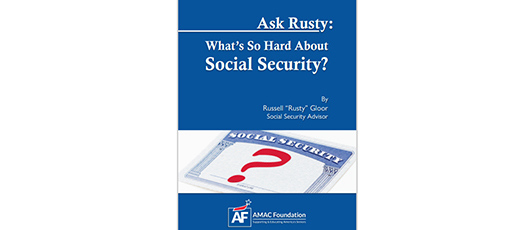 "Why should society feel responsible only for the education of children, and not for the education of all adults of every age?"
-Erich Fromm-
(1900-19800: psychoanalyst, humanist, and social psychologist
Social Security Advisory Staff Expanding!
We are continuing to see steady growth in demand for our Advisory Service, and in fact are now handling an average of between 400 and 500 inquiries every month. Through the third quarter of this year, we've now provided guidance to nearly 13,000 seniors since launching the program in 2016. And with the steps we've taken over the past two months to expand our brand -- the connection we've established with all 535 Congressional Offices and the start-up of our Google Ad campaign -- we fully expect this rate of growth to rapidly accelerate in the months ahead!

With this continuing growth in mind, we have taken steps to augment our Advisory staff with a sixth set of hands, in the form of retired Social Security Administration Public Affairs Specialist Ken Baron. Ken will be joining us in November, working remotely handling incoming requests for assistance from the general public. We welcome his expertise to our growing staff, and look forward to working with him in the months ahead as we continue to expand the Foundation brand in this vital area.

Check out Ken's background on the Foundation website!




Understanding Advance Directives Video Now Available on Website
Our October 22 webinar on the subject of Advance Directives was a great success, with VITAS Healthcare's Admissions Manager Brittany Burgher, RN providing an insightful explanation of the scope and intent of various forms of Advance Directives. Her remarks ranged from Living Wills to Do Not Resuscitate orders, covering a variety of related subjects along the way. Applying a wealth of first-hand, on-the-spot knowledge acquired from years of operating and emergency room participation, Brittany delivered a complete explanation of how Advance Directives actually work in real-life situations.

The need for Advance Directives is, unfortunately, a reality of life that many folks are aware of, but not really focused on until a practical situation occurs. This webinar put this reality in a human perspective, answering many of the questions on the minds of families of all ages. The good news here is that our video recording of Brittany's highly informative remarks is now available and can be accessed here. We encourage you to take a look at it!



If you no longer wish to receive this type of email, you can [UNSUBSCRIBE_LINK] .

[COMPANY_FULL_ADDRESS]