Foundation 2020 Annual Report is Now Available
Our annual recap of Foundation projects and activities for 2020 was published in early February, and is now available for download or review on our website's Resources page. The document begins with a tribute to our late Board President and Founder, Dan Weber, and outlines the various projects undertaken during the year--our seventh in service to America's Seniors--and highlights the progress made in extending the Foundation's brand. Of particular note is the continued growth of our Social Security Advisory Service, which at this writing has now surpassed the 15,000 level in terms of support inquiries handled. Another major initiative introduced in the report is the 2020 launch of AMAC's "Veterans 2021 Initiative," a major Veterans support program in which our Foundation is playing a lead role.

The 2020 Annual Report caps off another highly successful year for us, and provides evidence of our continuing and growing commitment to the support of America's Seniors. We encourage readers to take a serious look at our progress, and we stand ready to address any questions from the public about who we are and what we do!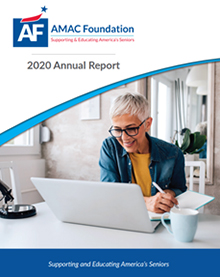 "You guys & gals ought to be running our country"
As we've publicly reported over the past several years, our Foundation's free-to-the-public Social Security Advisory Service has grown to be a major service for American's seeking to navigate the complexities of our country's Social Security System. From it's 2016 launch with four accredited Advisors, the service has grown steadily and last month reached another milestone with the handling of the 15,000th request for assistance from a public struggling to understand the rules and regulations as they make their benefit claiming decisions--decisions that have a permanent impact on the financial part of their retirement lives.

We're now staffed with six accredited Advisors, all of them well-trained in the myriad details of Social Security, and all of them dedicated to helping others as they work their way through this critical juncture. For our Advisors, it's somewhat of a calling in that responding to the inquiries we receive is more than just answering a question. In many of the cases, we face a need to empathize with a confused and often desperate public, and we need to work with them to be certain we understand first, their question, and second, that we're providing the best information available to help them make the correct decision.

One of the things that keeps our Advisors motivated in the handling of incoming inquiries--an average exceeding 600 per month, by the way--is the occasional feedback we receive. Many say a simple heartfelt "thanks," but some express their gratitude with more robust commentary. Just last week we received one of those comments, and we thought we'd share it with you...it was from someone we helped decipher the often confusing topic of spousal benefits:

"Thank you so much for your informative advice. It is clear to me that 'you guys & gals' ought to be running our country. Thank you again."

All in a day's work? Perhaps, but it's this type of recognition that fuels the fires of our dedication to America's Seniors.