Concierge Service Launched!
During the week of May 10, our Social Security Advisory Service launched, on a pilot basis, its Social Security Concierge Service. As you may recall from prior newsletter articles, this new service is targeted at small- to medium-sized companies and financial services firms not having administrative staff to handle detail questions about the broad subject of Social Security.

Although the fully "packaged" approach we've developed is structured as a two-day engagement, we elected to do an abbreviated trial at SECO Energy, a local electric cooperative, presenting a summarized overview of Social Security concepts and following that with an on-site Q&A session. In photo below, Advisors Russ Gloor and Sharon Kleczka are pictured handling the stream of questions.

More than 50 SECO employees participated in the pilot, some virtually, rating the content very high in terms of overall quality. Here's a sampling of the comments from attendees:
Real information that was easy to understand
Good to know there is someone you can call for questions
Very clear and understandable information
Very informative and easy to understand
There was a lot of good information about SS that I was unaware of and it was helpful
I think that the speakers were well-versed and have a lot of knowledge
Presenters were very knowledgeable and personable
Our plan going forward is to make some modifications to the program's structure, and then move ahead with an advertising campaign to promote the service first statewide, and then onto the national stage. The full two-day program will include these components:
A complete and focused seminar on Social Security, from basics to details (about a four- to six-hour session)
• Focused discussions on items pre-selected for the audience (e.g., spousal benefits, survivor issues, calculation of benefits, filing strategies, rules for government retirees, etc.)
• Individual appointment-based sessions to discuss questions, personal situations, etc. like:

Break-even strategies
Specific spousal and survivor benefits
Medicare/Social Security issues

Foundation publications ("Ask Rusty" collections, "Who's Who in Social Security," article reprints)
Although our phone/email service is free to the public, we plan to charge a modest fee for this new service, since there would be travel involved as well as potentially a large block of dedicated research and counseling time.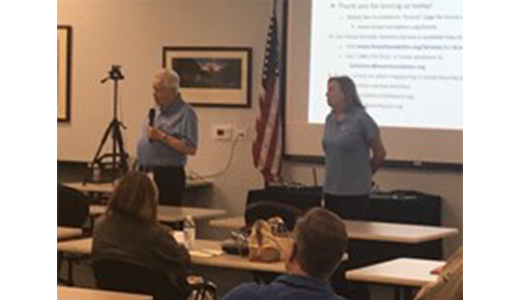 "Wow! Thanks for the thorough and quick response. Trying to read and understand the convoluted social security regs on my own was making my head hurt. I believe you have answered all my questions. What a great service you are providing."
Wayne H., a satisfied Social Security Advisory Service user
New Webinar Series in Partnership with Alzheimer's Association
The AMAC Foundation is pleased to join with the Alzheimer's Association in its mission of leading the way to end Alzheimer's and all other dementia -- by accelerating global research, driving risk reduction and early detection, and maximizing quality care and support. Toward this end, we are partnering with them in the delivery of a three-part series designed to focus on aging and dementia, covering specific topics like understanding the disease, improving communications with those living with the disease, and dealing with behaviors related to dementia.

These programs will be presented free of charge as online webinars

The first program in this series will be held Thursday, June 3, 2021 beginning at 10:00 am. Check out the flyer for this program here...and go to https://tinyurl.com/1AMACUAD to register.

The remaining two sessions in this series are scheduled as follows:

Thursday, June 10, 2021 - 10:00 am Topic: Dementia and Effective Communications (flyer). To register, go to https://tinyurl.com/2AMACECOMMS

Thursday, June 17, 2021 - 10:00 am Topic: Understanding & Responding to Dementia-Related Behavior (flyer). To register, go to https://tinyurl.com/3AMACBehaviors

The sessions will be recorded and available for on-demand access.

If you need any additional information, contact the AMAC Foundation office at 888-750-2622 or email us at

[email protected]

and we'll get you signed up!




Welcome, Social security Advisor Deb Parmigiani
Deborah Parmigiani (pictured below) has achieved her National Social Security Advisor certificate from the National Social Security Association LLC in Cincinnati. Deb joins the AMAC Foundation Social Security Advisory Service as its seventh accredited Advisor.

The NSSA certificate promotes advanced Social Security education, providing Deb with the knowledge to counsel constituents on the best way to claim benefits in order to optimize lifetime Social Security income. The program's training module helps prepare advisors for the myriad questions they face, and paves the way for the more in-depth training provided by the Foundation staff. Once trained, the Foundation's Advisors guide constituents through the many available Social Security options and clarify the thousands of rules that need to be understood. NSSA-accredited advisors are uniquely qualified to help the growing numbers of baby boomers still aging into Social Security, and are considered to represent the gold standard in Social Security accreditation.

The NSSA certificate program was created by CPA Marc Kiner and Jim Blair, a 35 year veteran of the Social Security Administration. The AMAC Foundation has worked closely with Marc and Jim since formation of its Social Security Advisory Service in 2016, with its Advisory staff now having served well over 16,000 requests for help from folks struggling to understand the options available to them.

"For more and more people, Social Security is going to provide an important part of their retirement income," said Blair. "NSSA advisors are passionate about helping retirees optimize their benefits over the rest of their lives."

For more information about the NSSA program, go to www.nationalsocialsecurityassociation.com, and to learn more about the AMAC Foundation's Advisory Service, visit www.AmacFoundation.org/Services.



If you no longer wish to receive this type of email, you can [UNSUBSCRIBE_LINK] .

[COMPANY_FULL_ADDRESS]