We're Planning a New Social Security-Related Service
Social Security is complex...those of you who are beneficiaries certainly know that, and those of you who are beginning to look into it are quickly becoming aware of the myriad rules, regulations, and critical decision points you'll face when you get there. Our Foundation, as you know, provides free Social Security Advisory Services to the public, and we handle between 300 and 400 requests for this service every month. It's been a wildly popular service.

To expand on what we're already doing, our team has been developing a new service targeted at small companies not having administrative staff to handle detail questions about the broad subject of Social Security. We believe there's a marketplace for a "packaged" service for those companies and are planning to offer this as an on-site program. The service would also be oriented toward smaller financial advisory firms not having on-staff resources familiar with the intricacies of Social Security.

The "packaged" approach we're developing will likely be structured as a two-day engagement, with the following components:
A complete and focused seminar on Social Security, from basics to details (about a four- to six-hour session)
Focused discussions on items pre-selected for the audience (e.g., spousal benefits, survivor issues, calculation of benefits, filing strategies, rules for government retirees, etc.)
Individual appointment-based sessions to discuss questions, personal situations, etc. like:

Break-even strategies
Specific questions that people are not inclined to discuss in open forum

Foundation publications ("Ask Rusty" collections, "Who's Who in Social Security," article reprints)
Although our phone/email service is free to the public, we would plan to charge a modest fee for this new service, since there would be travel involved as well as potentially a large block of dedicated research and counseling time. We plan to move ahead with this service during the latter part of 2020 (of course, after the pandemic restrictions are lifted and the economy is back in gear!) Stay tuned for further developments on this exciting venture!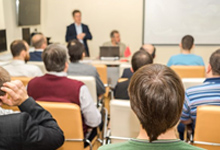 Zoom Virtual Seminars Coming!
It seems like all indications are pointing to a long period of time for folks to get comfortable with group sessions, so we've decided to resume our seminar series using "virtual" technology. Specifically, our Foundation has contracted with Zoom, a leader in modern enterprise video communications to use their online platform to restart our educational programs. First up will be an hour-long seminar titled "Understanding Early Dementia," featuring the talents of Peggy Bargmann, Founder of Brain Fitness Academy. The seminar is schedule for Monday, June 9 at 10:00 am. For more information and to register, visit the "Events" listing on our Foundation website.

Depending on the success of this venture, we plan on establishing a weekly series of short virtual education sessions starting in July. Watch our website for announcements of the topics to be covered. Hope to see you there!