Seminars and Webinars Planned for the Summer Months
We're please to be back to our pre-pandemic momentum on the seminar/webinar front, with July offering these interesting and informative topics:


The 23rd edition of our highly acclaimed "Sudden Death: Are You Prepared" notebook series program is set to launch July 12 with the second and third parts following on July 19 and July 26. The program's objective is to help ensure that survivors are prepared to deal with the aftermath of a loved one's death, guiding attendees through the creation of a "Survivor Notebook" to help loved ones cope after the death of a spouse or key family member. Reservations are now open for this series, but space is limited.
On July 14, we'll present Understanding the basics of Parkinson's Disease, focusing on physical and behavioral changes, medications, and caregiver support. This seminar will be presented by Dr. Ramon L Rodriguez, Board Certified Neurologist, Movement Disorders Specialist from Neurology One. His expertise as a physician and his extensive experience in research awarded him multiple accolades, including one of the Top Doctors in Orlando, 40 under 40 and he was awarded the status of Fellow, American Academy of Neurology, acknowledging his exemplary work and achievements in the neurosciences, and the clinical practice of neurology. Note: This session will be offered as a webinar in partnership with VITAS Healthcare and will be recorded and subsequently available for on-demand viewing via the Foundation website's "Videos" page.
July 21 will feature low impact exercise training for pain management. It will be a hands-on seminar and we'll also delve into the science behind Tai Chi and Qi Gong and the importance of balancing mind, body, and spirit. A Physical Therapist will join us to explain exercising and arthritis and joint health, while VITAS Healthcare experts will discuss various physical exercise alternatives. Note: This session will be held live at the Lady Lake Library, 225 West Guava Street, Room 207 in partnership with VITAS Healthcare.
As always, just call the Foundation office at 888-750-2622 to register, or send us a message at

[email protected]

. Hope you'll join us!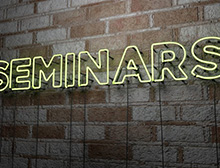 "Aging at Home" Expo Repeat Now Being Planned
We've just started planning for a repeat of our highly 2020 "Aging at Home" Exposition, although there remains a degree of uncertainty surrounding a date. A lot will depend, of course, on the availability of the Lady Lake Library and whether we'll be partnering with their "wellness fair" event, as we did last year.

Despite the lack of a firm schedule, and recognizing that there is a substantial lead time required to organize an event like this, we are moving ahead with contacts with exhibitors and speakers so that we're ready when a date is set. At our January 29, 2020 event, we featured 15 exhibitors discussing services and facilities essential to the concept of aging at home, along with four workshop speakers covering popular topics related to the concept. Areas of focus will include personal security, dealing with dementia, services available in the community, veterans benefits available to help, steps you'll need to take to help prepare your home, and more!

The event was a huge success for our community, with an estimated 1500 people participating. Here are a few snapshots from last year's event...