Foundation Appears on AMAC Weekly News Broadcast
For the second time in 2020, our Foundation had the opportunity to appear on the televised "AMAC Weekly News" program moderated by radio and cable television talk show host Ben Ferguson. During the "benefits" section of the broadcast, Foundation Executive Director Gerry Hafer discussed the Social Security Advisory Service and the assistance it provides to the general public. His remarks stressed the importance of understanding the program's many rules and regulations and how they apply to personal situations.

Earlier this year, Russ Gloor of our Social Security Advisory Service joined Gerry in a Weekly News broadcast explaining the overall scope of the Foundation, with specific emphasis on the Social Security Advisory Service.

The AMAC Weekly News airs Saturday mornings on the AMAC.us website, and is viewed by thousands of subscribers. For a look at this broadcast, click here: https://amac.us/big-tech-election-benefits/.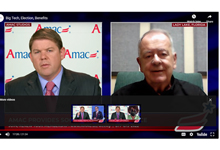 ATTENTION, SHOPPERS! You can help the Foundation!
Online shopping this season is ballooning, according to the media. And, as we reported earlier this year, many of our readers are aware of Amazon Smile, the online retailing giant's approach to generating revenue for charitable organizations. So, we're again shining a light on this opportunity by doing whatever we can to remind folks of this simple way to help finance the Foundation's growth. We're not actually advertising on behalf of Amazon--we don't do that for any vendor--but for those who shop on Amazon anyway, it's a painless way to support our Foundation.



AmazonSmile - You shop. Amazon gives. When you shop at smile.amazon.com, Amazon donates to your favorite charity.



Simply use this link--https://smile.amazon.com/ch/32-0312372--when you shop at Amazon, and they'll do the rest, contributing 0.5% of the purchase price to our Amac Foundation.