Medicare's Open Enrollment Period is Just Around the Corner!
Hard to believe, but Medicare's annual Open Enrollment Period is closing in on us rapidly! Officially, the open enrollment period is October 15 - December 7, but many folks like to begin their preparatory research well ahead of that time, since Medicare health and drug plans can make changes each year--things like cost, coverage, and what providers and pharmacies are in their networks.

The open enrollment period is when all people with Medicare can change their Medicare health plans and prescription drug coverage for the following year to better meet their needs. And for those just aging into Medicare eligibility, the array of decision points can be a bit intimidating.

Recognizing the importance of having up-to-date information, we've arranged again this year to present an informative briefing on how the Medicare program works, what options are available, and how timing is critical in the decision-making process. This briefing will be held in webinar format on Thursday, August 26, 2021, beginning at 10:00 am. The session will be led by Mr. Scott Kellogg, AMAC's Director of Compliance, Medicare Division. Scott's remarks will cover:
Medicare's Components
Common Terms and Definitions
Thoughts on Managing Health Care Expenses
Your Medicare Options
Medigap Plans and How They Work
Please note that we are offering this seminar as a virtual (ZOOM) presentation. Closed captioning will be used with the presentation for the convenience of the hearing-impaired. To register for this webinar, please contact the Foundation office (888-750-2622 or via email at

[email protected]

). Deadline for registration is Monday, August 23.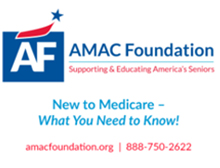 Exploring Parkinson's Disease
Our July seminar series focused on "Understanding the basics of Parkinson's Disease," and we were honored to have Dr. Ramon L. Rodriguez Board Certified Neurologist, Movement Disorders Specialist from Neurology One join us virtually to share his wide-ranging expertise as a physician and his extensive experience in research about Parkinson's disease and its related issues. Dr. Rodriguez has received a host of professional accolades, including recognition as one of the Top Doctors in Orlando, 40 under 40, and he was awarded the status of Fellow, American Academy of Neurology, acknowledging his exemplary work and achievements in the neurosciences and the clinical practice of neurology.

The Parkinson's Foundation reports these statistics about the prevalence of the disease:
Nearly one million people in the U.S. are living with Parkinson's disease (PD), which is more than the combined number of people diagnosed with multiple sclerosis, muscular dystrophy and Lou Gehrig's disease (or Amyotrophic Lateral Sclerosis). This is expected to rise to 1.2 million by 2030.
Approximately 60,000 Americans are diagnosed with PD each year.
More than 10 million people worldwide are living with PD.
Incidence of Parkinson's disease increases with age, but an estimated four percent of people with PD are diagnosed before age 50.
Men are 1.5 times more likely to have Parkinson's disease than women.
With these statistics in mind, Dr. Rodriguez discussed the symptoms of the disease, the causes and risk factors associated with it, and the various stages during Parkinson's progression. Interestingly, he focused a fair amount of attention on the effects of general health and how effective exercise program's can help reduce the risk of contracting the disease.

The recorded video of Dr. Rodriguez's remarks is available for on-demand viewing on the Foundation website's "Videos" page under the tab "Virtual Seminars."